Flax to Linen: Online Course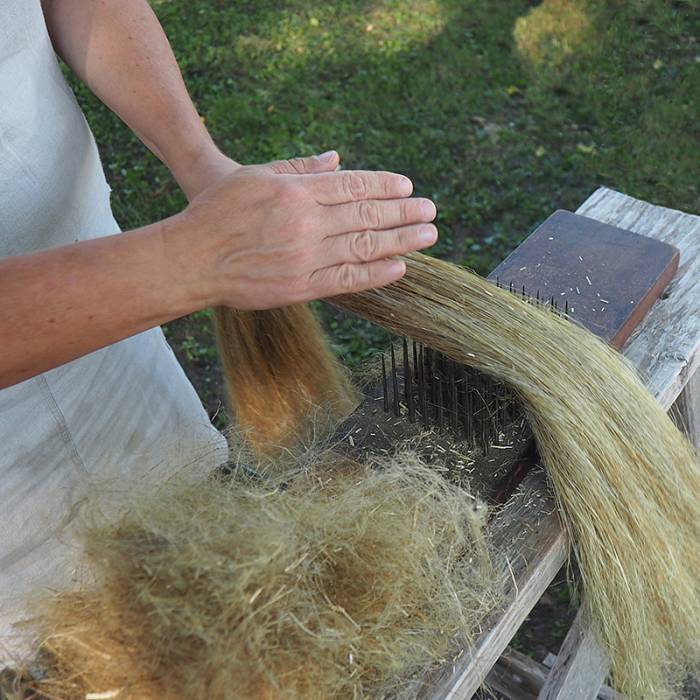 Course Overview
This class explores the history and contemporary uses of flax, the plant fiber from which linen is made. We will work hands-on to learn hand spinning of tow and line flax using tools and materials supplied by the instructor. Topics included: how to source textile flax seed, growing, harvesting, and retting flax fiber, and the steps of traditional flax dressing using brake, scutch and hackle. We will also discuss contemporary and emerging flax-to-linen projects, and their connection to the Fibershed movement. The class will be conducted via group sessions on Zoom, through individual instruction sessions, class
discussions, and a little outside reading.
Online group meetings via Zoom video conferencing, with one-on-one instructional time available to students between group meeting dates via phone, email, or video conference. Kits with class materials sent out via USPS. Shipping fees are included in the materials fee for folks registering from the contiguous United States. If you are registering for this course from outside of the contiguous United States, please call our main office (218-287-9762) before registering to find out what additional shipping fees may be incurred as part of your registration. To ensure materials arrive on time, registration for this course closes two weeks before class begins.
Required Tools
Laptop or tablet
Reliable internet service
A face covering for working with the flax straw
A branch (specifics wil be covered in class, don't worry about it yet!)
All other materials will be mailed to you in advance of the course. The materials fee includes postage.
Optional Tools
Spinning wheel-- please contact the instructor ahead of time to make sure your wheel is ready to spin flax.
In the unlikely event you have access to some specialty tools like a flax break, scutching board, or hackles, you would be welcome to use them
Session Information
Registration Deadline
In order for the instructor to have time to mail materials to the students, this course closes for registration on September 15th.
Dates
Wed, Sep 29th, 2021 – Wed, Oct 20th, 2021
Course Details
Hours:
6:30-8:30 pm CT each Wednesday for four weeks; September 29th, October 6th, 13th, and 20th
Tuition:
$200.00
Materials fee: $45.00
Flax to Linen: Online Course