Woodworking & Furniturecraft
Fine Furniture: Windsor Comb Back Mini Settee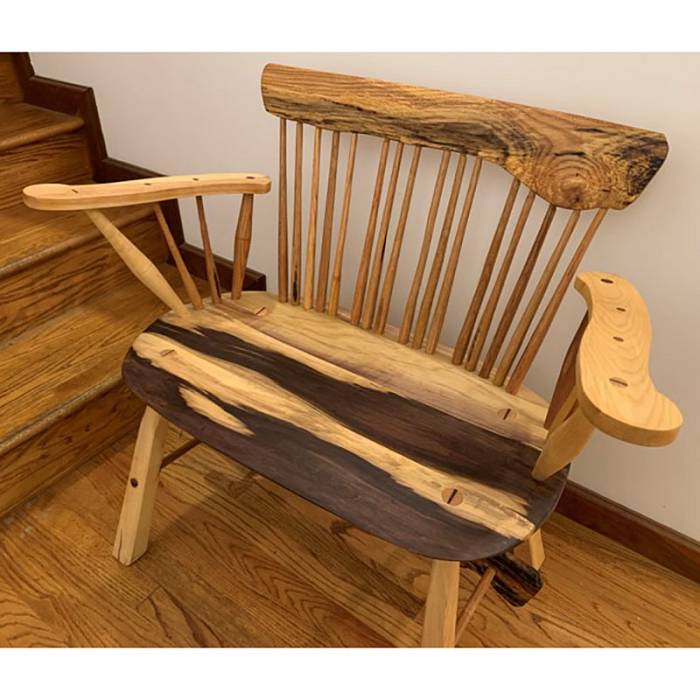 Course Overview
In order for a piece of furniture to become a treasured family heirloom, someone has to build it. And who better to build your family's next prized possession than you? Using materials like cherry and white pine and design inspiration from early American furniture, students will build a Windsor comb back mini settee, designed for comfort, portability, and strength. The 28 inch long "mini" settee is roughly a foot longer than many Windsor chairs and a foot shorter than many Windsor settees offering plenty of room to curl up with the cat but small enough to work as a dressing bench at the end of the bed. With a natural edged comb the "mini" will be a stunning accent for any room. Choose from maple, cherry, or walnut for legs, arms, and stretchers. Seats will be pine, poplar, or soft maple. Skills covered will include drilling for compound leg angles, mortise and tenon joinery, and hand tool use, including the travisher, drawknife, scorp, and spokeshave. Seats and arm tenons will be through-mortised and wedged. All students will take home a completed settee that is glued up, leveled, and ready for paint or clear finish at home. Students ages 16 and up are welcome in this class. Couples working together on one project are also welcome to register and attend this course for one tuition and materials fee.
Materials Fee
A $350 materials fee will be collected by the instructor during class.
Required Tools
Wear comfortable shoes and clothing, ready to work on your feet all day.
All required turnings, tools and raw materials will be provided however students are welcome to bring along a favorite stick of wood they would like to incorporate into the chair's design. Questions on this? Contact me prior to class. (Instructor contact info will be in your confirmation email)
If students have an orbital sander and rechargeable drill it can be helpful to bring along.
Bring a sheet of big paper if you want to copy a seat pattern and jot down drill angles etc. All secrets will be revealed!
Dates
Wed, Oct 12th, 2022 – Sun, Oct 16th, 2022
Course Details
Hours:
Day 1: 4-7pm; Day 2-5: 9am-5pm
Fine Furniture: Windsor Comb Back Mini Settee