Woodworking & Furniturecraft
Fine Furniture: Natural-Edged Windsor Bench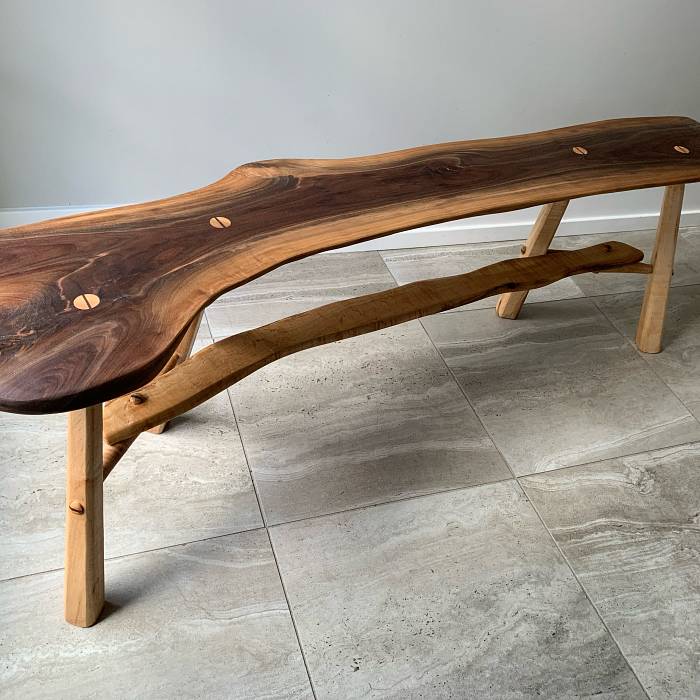 Course Overview
Say "hello" to curvy edges and goodbye to 90 degree corners in this edgy furniture building course. Join David for two days of creative woodworking to build a unique bench ready to serve at the foot of the bed or in the hallway where shoes and boots come on and off. This class celebrates the wide variety of shapes, color, and curves that reflect the life of the tree and leaves behind the predictability of big box store dimensioned lumber.  
Dimensions of slabs will be roughly 12 inches wide by 3 to 5 feet in length and 1.25 inches in thickness. Expect curves, color, pattern, and wavy edges. Many of these slabs will be from the outer edge of the log where bugs and bacteria have been hard at work making unique colors and excavations. All turnings for legs and stretchers will be provided. Choose from cherry, walnut, or maple.     
All students will take home a completed bench that is glued up, leveled, and ready for paint or clear finish at home. Students ages 16+ are welcome in this class. This course offers a partner model, in which two people may work on one project for a single tuition and materials fee. The materials fee will be due to the instructor during class (approx $200).
Materials Fee
Please have cash or check available to pay instructor approximately $200 materials fee during class
Required Tools 
All tools for drilling, shaping and excavating will be provided 
Wear comfortable shoes and clothing, ready to work on your feet all day 
Optional Tools
All required turnings, tools and raw materials will be provided however students are welcome to bring along a favorite stick or slab of wood they would like to incorporate into their project.  Questions on this? Contact David prior to class. (Instructor contact provided after registration)
Dates
Sat, Sep 23rd, 2023 – Sun, Sep 24th, 2023
Latest Update:

View recent changes →
Fine Furniture: Natural-Edged Windsor Bench