Crafting the Traditional Stake & Strand Willow Basket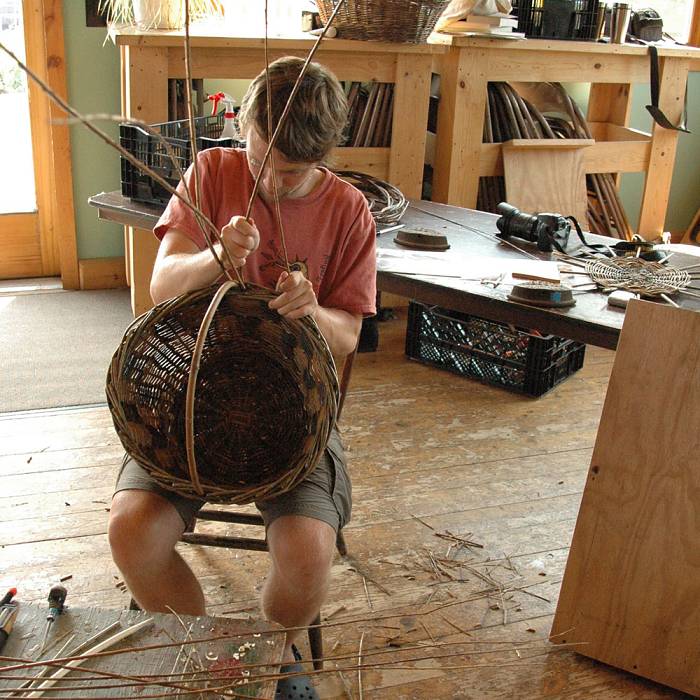 Course Overview
When European immigrants came to North America, they brought with them a host of crafts and skills necessary for survival in their new world. The basketry tradition known as 'stake & strand' was one such craft, as baskets were used to store nearly everything around the homestead. Willow yields to strong hands, giving beautiful results, and class members will make a sturdy and functional round basket with a handle using a variety of weaves. Students will learn the techniques behind the terms slath, twining, 3-rod wale, French randing, and border weaves. Class discussions will cover willow cultivation and harvest, traditions, and lore. The class will assure a new appreciation for the art and craft of basketry and open a door to the amazing world of willow. Baskets are a cross between whittling, carpentry, weaving, and sculpture. Lee & Lindsay see willow as the ultimate renewable resource and have found abundant uses for it in their home and gardens.
Required Tools
All required tools will be provided.
Optional Tools
Utility knife/box cutter or carving knife
Sturdy craft scissors or hand pruner/secateurs
Bodkin or thick shafted awl
Small side cutter
Apron
Session Information
This course is part of the 2022 Basket Week! Plan to attend the Basket Gathering Day on Friday, October 7, a day-long conference that features speakers, demonstrations, field trips and community gatherings for anyone interested in baskets! Full schedule online late summer 2022.
Dates
Tue, Oct 4th, 2022 – Thu, Oct 6th, 2022
Course Details
Hours:
Day 1: 3-6pm; Days 2-3: 9am-5pm
Tuition:
$270.00
Materials fee: $65.00
Latest Update:

View recent changes →
Crafting the Traditional Stake & Strand Willow Basket