Build Your Own Yurt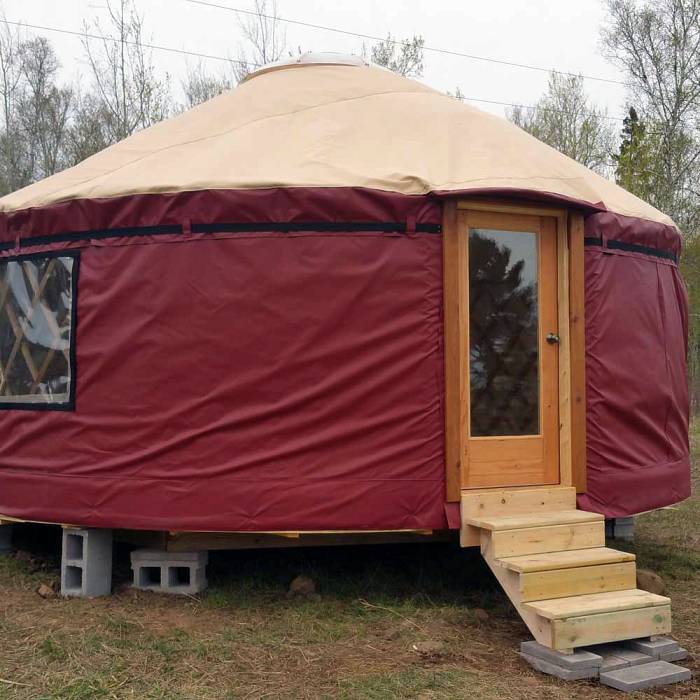 Course Overview
Create yourself a comfortable living space: a spare bedroom, office, studio, sauna, or whatever else you can dream up. The 18-foot yurt is an excellent shelter option that provides comfortable living arrangements for all four seasons. Working with skilled yurt builders, you'll construct a simple yurt, complete with a door and two windows, ready to be loaded into your car and set up for any purpose you can imagine. This includes constructing the wooden framework and sewing the fabric cover, building the rafter ring, windows, and door. The skylight and windows are made of Lexan plexiglass and the cover is sewn from durable acrylic coated polyester (choice in color may be possible). Whether you want to have a unique guest room in the backyard or you are interested in a lifestyle that includes living in a circular space with the wilderness outside your door, you can build your own livable shelter in less than a week and move in the next day! To make this large project possible, students also need to recruit a group of assistants who journey to North House together to participate in the project (minimum group size 4, max 6). This is a big project compacted into a short amount of time. Participants will need to be physically prepared for intensive use of power tools (no prior knowledge needed, just ability), full days of repetitive handwork, and the use of industrial sewing machines. Helpers need to be at least 16 years of age. We'll have fun and take breaks, but this is an intensive course. Be prepared to work hard all day and be diligent and focused.
Tution and Materials Fee
Total cost of the project including tuition and materials will range from $5800-$7900 depending on the options selected. (see below) A $2900 deposit is required to reserve your space in this class.
Students will have options to add double pane glass windows and door for additional cost. (Please note this will increase the size of the load you'll have to haul home.)
Optional 1 day add on to construct an insulation liner. Cost of liner is approximately $1500-$2000 depending on size.
Cancellation Policy
Given the unique nature and small size of this course, please note that North House uses separate tuition payment & cancellation policies for managing this course. The intent of these policies is to ensure that all students can be confident that the course will occur as planned once adequate enrollment is achieved. Specifics of these policies are as follows: upon enrollment a registration deposit of at least 1/2 of the project cost is required, more than sixty (60) days prior to the course all but $50 of the registration deposit is refundable, sixty (60) to thirty (30) days prior to the course the entire registration is nonrefundable, at thirty (30) days prior to the course the balance of the tuition payment is due all of which is nonrefundable. Should North House be required to cancel the course, all tuition payments will be refunded.
Tools and Materials
Nearly all required materials will be provided for. Your instructor will discuss any additional or optional materials/tools for the project three weeks prior to the start of the course. Student should plan to bring a minimum of 3 additional participants (tutition is included) to help with the project.
Dates
Thu, Dec 16th, 2021 – Sun, Dec 19th, 2021
Build Your Own Yurt