Blanket Coat: Techniques for Making Your Own Warm Wool Blanket Coat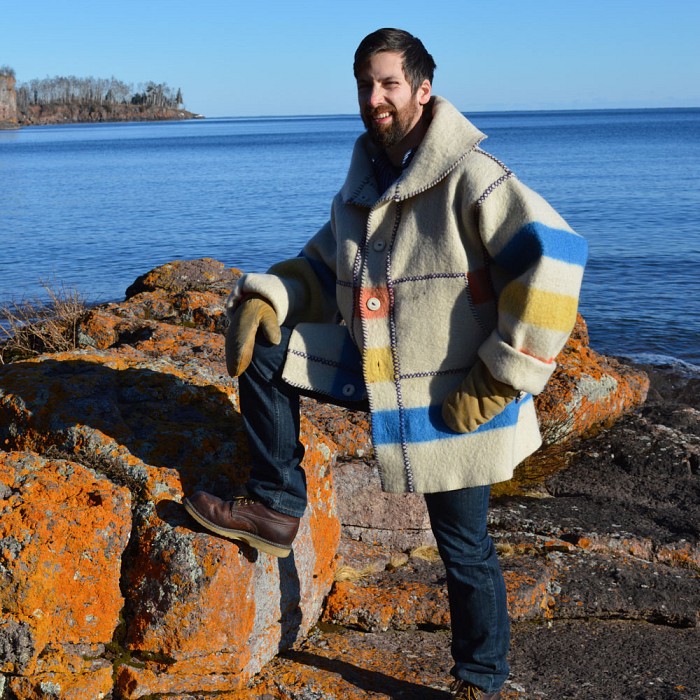 Course Overview
A blanket coat made from a Hudson Bay-style blanket is an inspiring and distinctive example of style and craft. In this skill-building workshop, students will gain the patterning, fitting, and sewing skills they need to create their own unique blanket coat. Made from new or recycled wool blankets, these coats are very adaptable and can be used for many outdoor activities and conditions. Students will practice fitting their patterns, handstitching, and utilizing construction techniques as applied to blanket coat making. Students will come away knowing sturdy and decorative hand stitch variations and will have a custom blanket coat pattern based on the distinctive North House Folk School example. Students will leave with their coat cut from the blanket and ready to be stitched and finished at home. Each student should bring their own blanket. Please contact the instructor after you register to receive guidelines for choosing your new or recycled blanket for your coat.
Dates
Fri, Feb 16th, 2018 – Sun, Feb 18th, 2018
Course Details
Skill Levels:
Beginner to Advanced
Tuition:
$325.00
Materials fee: $40.00
Additional materials fee paid to instructor when class starts:
additional $35 if purchasing blanket
Required
You will need the following tools for this class:
Note - Bring your favorite tools for handsewing – it is important to have tools that you are most comfortable using. Assemble your tools in a sewing tool box. If you cannot find some of the tools listed don't worry – there will be some extra of all of these tools provided in the classroom to share.
Sewing machines – If you own a portable sewing machine, bring it to class. Please test it before coming to class to know that it is in working order. Bring bobbins to fit your machine. We will use sewing machines primarily to baste (temporary stitching) the pieces together for your pattern mock-ups. The machine sewing
techniques needed for this pattern mock-up will be very simple straight or zig-zag overlapped seams. If you do not own a sewing machine that you can bring, North House has a few machines. You will be welcome to use them and will be given basic instruction for their use.
Regular hand sewing needles used for sewing with thread
Tapestry needles and Chenille needles for sewing with yarn (both come in assorted packages of sizes 18 - 22) (Both types of needles have large eyes for
sewing with yarn. Chenille needles have sharp points, Tapestry needles have
dull points.)
Needle threaders – two sizes, 1) for sewing with yarn and 2) for sewing with
thread
Thimble (some like leather thimbles, or metal thimbles sized to fit your finger)
Pins (longer pins with plastic heads are very handy for thick fabrics)
Pin cushion or magnet
See-Thru Clear Plastic Ruler (Hancock's Fabrics has the Quilter's See-Thru Drafting Ruler 18" x 2" for about $8.00; or bring any smaller or larger clear plastic rulers)
Flexible measuring tape
Fabric marking pencil
Lead pencil, eraser, sharpener
Paper cutting scissors
Fabric cutting scissors – sharp and sturdy for cutting blankets (If you prefer using a rotary cutter instead of a scissors, please bring a cutting mat)
Small thread cutting scissors
Seam ripper
Sewing awl (sometimes called a tailor's awl – not a leather stitching lock-stich awl)
Small pliers or needle puller
White all-purpose machine sewing thread for sewing mock-ups
Optional Tools
Tools and supplies instructor will bring to share in the classroom. If it is convenient for you to bring any of these items, you can also bring your own
Sleeve board (for ironing sleeves)
Tailor's ham and Seam pressing board or roll
Travel Iron/travel press board
Press cloth
Hand-held steamer
Needle point marking wheels for marking pattern lines
Fabric carbon paper mounted on foam core boards
Handy variety of tapes – Tiger tape marked in 1/2 inch and smaller intervals, 3M surgical tape, Scotch Magic tape, Wash-away tape, etc.
Third Hand Clamp (Lacis brand)
More Information
Once registered, students will receive a confirmation email with further class information. Please call us if you haven't received it within 24 hours.
Blanket Coat: Techniques for Making Your Own Warm Wool Blanket Coat