Black Ash Basketry Sampler: From Splint to Basket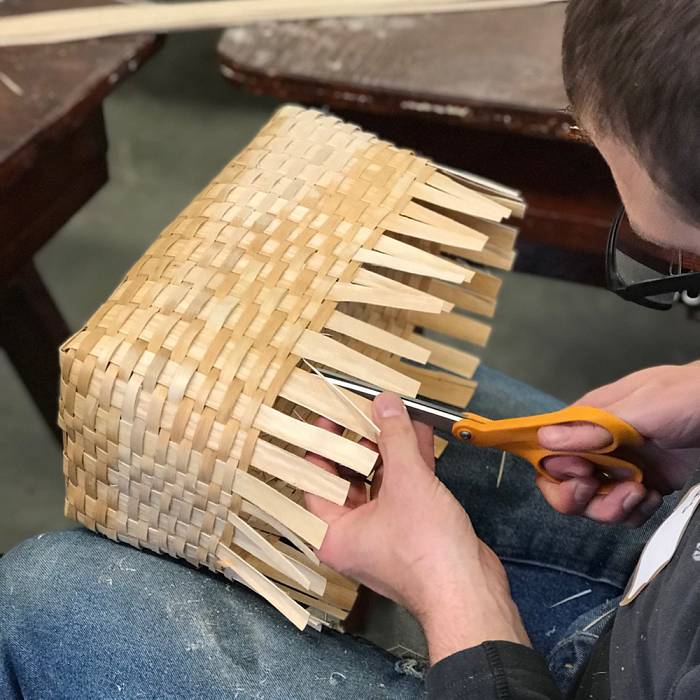 Course Overview
The difference between a beginner's basket and the work of an accomplished weaver is largely about nuance. To create a pleasing form and durable basket, weavers must learn to understand the subtleties of natural materials, and how to make many small choices throughout the weaving process that impact the final results. The material that comes off of the black ash log has differing thicknesses. Determining which pieces to use as uprights or weavers or lashings or rims impacts the quality of the final basket. The focus of this workshop will be a deep dive into the subtleties of black ash splint, learning how thickness affects tightness and tension, and how "close" the elements can be to one another, which will improve the appearance and durability of the basket. Students will lay out and weave a black ash basket that will be ready to accept a handle. Participants will leave with a deeper material knowledge that will improve any future basket project. Baskets can be finished at home, or students can choose to enroll in the course "From Log to Rim" the following day to complete their projects. Students ages 12 and up are welcome to enroll in the class with an adult; ages 18 and up can enroll independently. Participants will work with choice black ash splint that has been pre-harvested and pre-shrunk, as they weave a basket measuring approximately 13" x 6" x 5".
Optional Tools
Feel free to bring a favorite scissors or whittling knife.
Session Information
This course is part of the 2022 Basket Week! Plan to attend the Basket Gathering Day on Friday, October 7, a day-long conference that features speakers, demonstrations, field trips and community gatherings for anyone interested in baskets! Full schedule online late summer 2022.
Course Details
Tuition:
$100.00
Materials fee: $75.00
Black Ash Basketry Sampler: From Splint to Basket