Beginning Dalmålning Flowers: Online Course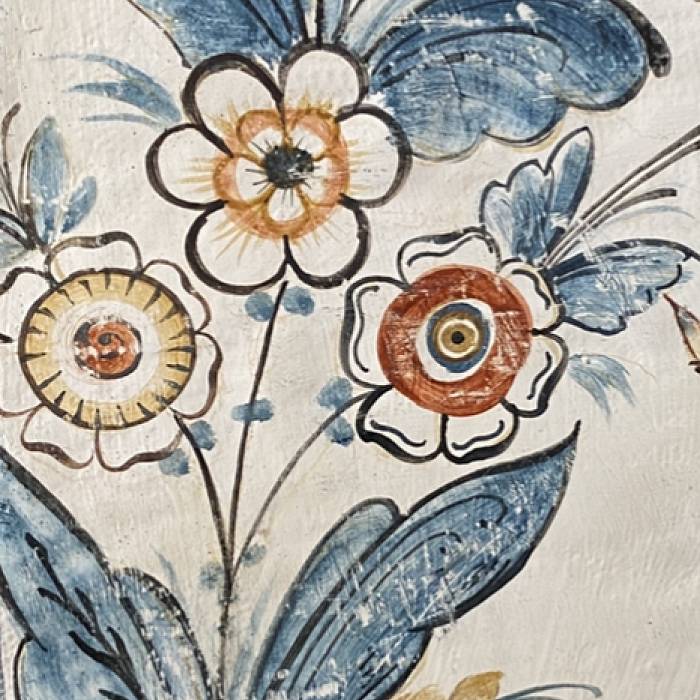 Course Overview
The Swedish kurbits have become one of the symbols of Swedish decorative art. These telescoping flowers found in the wall paintings of Dalarna are filled with fantasy flowers! Start your painting journey learning about dalmålning, and by practicing some simple flowers and leaves using acrylic paints and canvas board. We will look at historical examples to learn how these flowers go together to form a kurbits, and how to incorporate them into your design.
Pieper will guide you in building a flower from the center to the outer layers of petals, giving you plenty of variety to incorporate into your own pieces. This is a perfect beginning class to give you the skills needed to take further classes in dalmålning. We will be working in acrylics, but the process can be adapted to any painting medium.
Required Tools and Materials
Students will need to provide the following items:
Paint:
We will use a simple palette for this short class. The instructor uses professional acrylics, but craft paints are perfectly fine for those who do not wish to make a large investment in paints just yet. Colors are simple: blue, red, yellow, black, brown, white. Below are some suggestions for paints to obtain:
Winsor & Newton
FolkArt or Americana
Professional acrylics
Craft paints
BLUE: thalo blue,midnight or navy
(Swedish blues are black-blue, not green-blue. We will mix with black to get a greyish blue.)
RED: burnt sienna or red iron oxide
(rusty red, or burnt sienna, not a bright cherry red)
YELLOW: raw sienna or yellow ochre
(yellow ochre, raw sienna, or other mustard shade)
BROWN: raw umber AND burnt umber
(burnt umber, coffee bean, or other light chocolate shade)
BLACK : ivory black
(ivory black, lamp black, pure black)
WHITE : titanium white
(titanium white, pure white)
Brushes:
Suggestions are:: Winsor & Newton Cottman watercolor, Princeton select, Princeton Lauren
Suggestions are: Blick Masterstroke Golden Taklon # 0 or #1 liner; Blick Scholastic wonder white script liner #0
Suggestions are: Princeton Select liner #2, Winsor & Newton Cottman 333 series #2, Princeton Heritage 4050L-4 #4 liner
Other items:
Liquitex acrylic glazing medium – small bottle (4 oz is plenty, but you may wish to get 8oz if you are taking further courses!) https://www.dickblick.com/products/liquitex-fluids-acrylic-glazing-medium/

Derwent watercolor pencil in raw sienna or raw umber (raw umber is easier to see if you have trouble with poor eyesight) https://www.dickblick.com/products/derwent-watercolor-pencils/

Straight edged ruler
Palette – StaWet palette or paper plate or palette paper
Brush pan for water
Paper towel

Palette knife

Pink soap, a small bar of ivory soap, or other brush cleaner

1-2 canvas boards 8"x10" or bigger to paint on. Canvas pad paper or a piece of cardboard base coated in a light greyish white color will also work.
https://www.dickblick.com/products/blick-studio-canvas-panels/
https://www.dickblick.com/products/blick-studio-canvas-pads/
Optional – 28lb or 32lb printer paper (used for color copies) is great for practicing brush strokes and playing with color.
Course Details
Tuition:
$65.00
Materials fee: $10.00
Beginning Dalmålning Flowers: Online Course