Twined Weaving: Online Course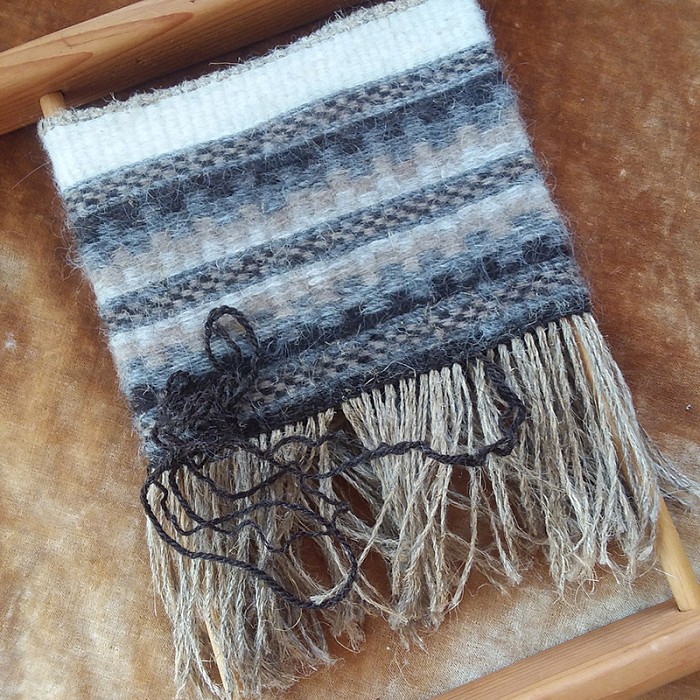 Course Overview
Twined weaving is an ancient technique of textile and basketry construction which has been in use for many thousands of years. In Twining, individual warps (or pairs of warps) are manipulated by hand, and the weft material is twisted around the warps, gradually building the cloth.
Twining appears in many forms around the world, from New Zealand to Southeast Asia, Central and South America, Somalia, Scandinavia, to North America, including magnificent dance blankets created by the Chilkat people of Canada's Northwest Coast, and a variety of storage containers and other useful objects created by the Ojibwe and Ho-Chunk people of the upper Midwestern United States. Our class project is based on "yarn bags" created by the indigenous people of Wisconsin. Named for the colorful yarns from which they were made, these bags were used for storage of clothing or household goods.
Students in this class will receive a kit with a small, portable twining loom, cotton yarn which will be used as warp, and a variety of wool yarns which we will use for weft. Our class will include online group meetings, downloadable instructional materials, supplemental video instruction, and one-on-one sessions with the instructor in which we will focus on the individual needs of each student.
North House and the instructor are pleased to offer a free tuition scholarship to members of indigenous communities interested in enrolling in the Introduction to Twined Weaving class. Please contact North House for additional information by emailing info@northhouse.org or calling 218-387-9762.