The Essentials of Sewing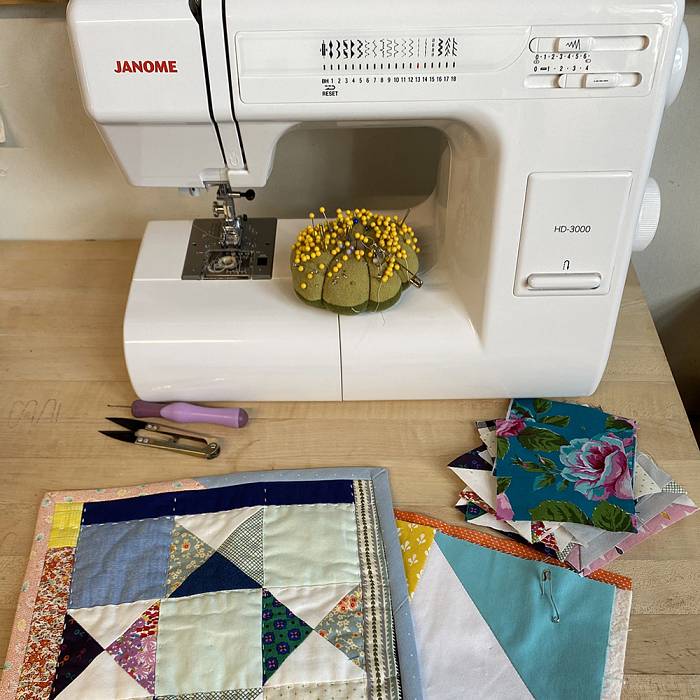 Course Overview
Sewing is a skill that can feel like a superpower! The ability to create your own garments, quilts and other items can provide freedom and a creative outlet, but getting started can be intimidating. Build your skills and confidence in this two-day class, as you get to know your particular machine or one of ours. Start by sewing reusable drawstring produce bags and move on to more complex projects to learn a variety of techniques: a Bento style bag and a 10" x 10" mini-quilt. This course is open to students ages 8+ if accompanied by an adult, 13+ without.
Starting at the very beginning, we will cover:
How to thread your machine, how to wind and load a bobbin, troubleshooting tension, sewing straight and zig zag stitches, sewing French seams, basic hand sewing and binding, proper pressing and seam finishes, identifying and choosing fabric types, laying out and cutting fabric, resources for further instruction, sourcing of materials and tools, etc.
Time permitting, we will discuss specific projects or goals for future sewing. Best for beginners or those looking for a refresher on sewing machine use and care.
Materials Fee
A $40 materials fee will be collected during class by the instructor. The fee covers fabric for practice sewing and all materials for class projects. North House also has sewing machines available to students who might be unable to bring their own.
Required Tools
Sewing machine. Your sewing machine (must be in good working order). North House can provide machines for students to use. Please contact info@northhouse.org at least two weeks before class to request use of a sewing machine.
If you are bringing your own machine, please bring the manual that goes with it (if you don't have a copy, there are many available online, available in both printed and PDF form)
Optional Tools
Any sewing tools you already have (i.e. scissors, pins, etc.)