Spring Felting Sampler: Needle and Wet Felting Online Course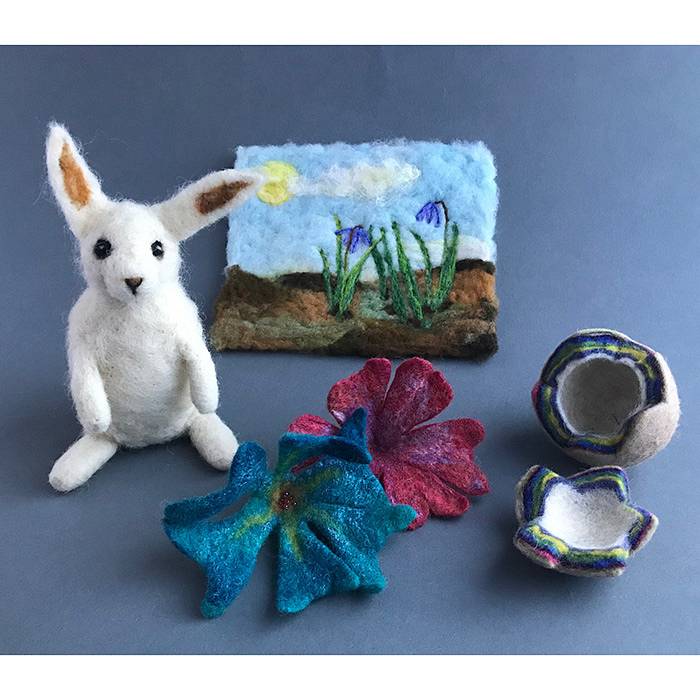 Course Overview
This two session workshop will use wool to make four projects celebrating Spring! Instructor Elise will send students all the wool needed, the needles and few other materials. Students will learn the basics of wet felting; fulling wool, shaping and sculpting wool, mixing colors, laying out wool, different breeds of sheep, and how to needle felt flat and three dimensional pieces. The instructor will show you how to wet felt your needle felted items to make them durable and long lasting.
Together we'll make four projects:
A wet felted geode egg that will be "cracked" open
A wet felted wool and silk flower
A needle felted small impressionistic painting of spring
A needle felted 3D bunny rabbit

No felting skill is necessary. Experienced felters are encouraged to play. Students will likely discover new tricks and be guaranteed to have fun.
Course open to students ages 12 and up.
Required Tools
The instructor will mail each student a packet of materials in advance including wool, needles, and a few other materials.
Students will need a laptop or tablet with reliable internet connection
Students will also need to provide:
1/4 c vinegar (any kind)
One egg, plastic or real
Rubber band or string or twist tie
One hand towel
One large towel
Small bowl for water
Sponge or small towel
Liquid soap or bar soap
Water proof space to work, a cookie sheet with low sides or a towel covered with plastic work well
Sharp scissors
A soft base to needle felt on 6"x6": can be a piece of upholstery foam, a sweater, a large sponge
Optional Tools
Extra bits of yarn or wool for your painting (will be discussed in week one, not needed until week two)