Sámi Knitted Mitten Online Class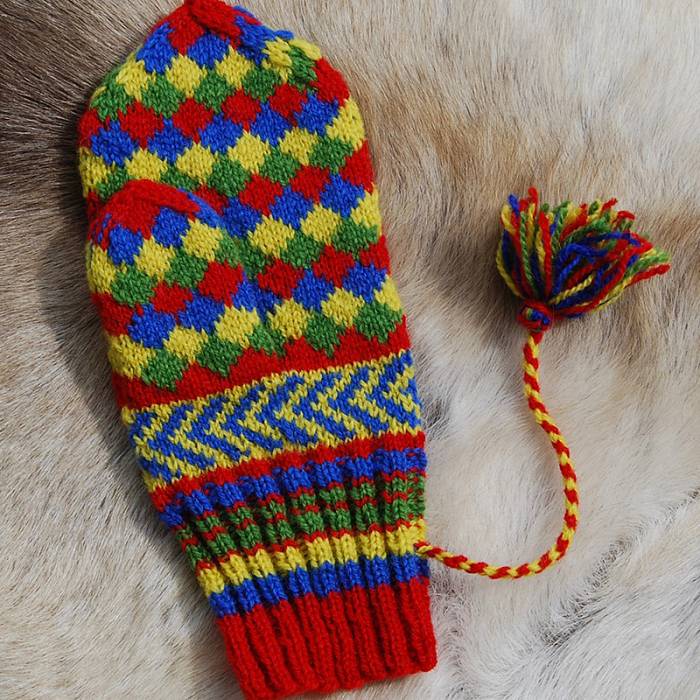 Course Overview
As we move into fall and start thinking of warmer clothes, it's time to knit mittens!
What type of knitting is associated with the Sami? The majority of traditional Sami clothing is made of reindeer skin or wool felt. Traditionally, very little is knit, except for mittens. This online course will explore a knitting motif of the North Sami in Norrbotten, Sweden. False Entrelac mittens are based on a beautiful pair of Sami mittens the instructor observed at the Nordiska museet (Nordic Museum) in Stockholm. The original pair were obtained from Jukkasjärvi in 1925, along with four other, colorful pairs. The colors and patterns mimick those found in the North Sami gákti, or traditional dress.
Join instructor Laura Ricketts in working these historical mittens while examining the Sami's rich tradition in wool. Students should know how to knit, purl, knit in the round and have stranding experience.
This course will take place over two Saturdays (9/19 and 9/26) online using Zoom. You will need a tablet or a laptop with reliable internet connection to participate. Students will provide their own materials. Before class, do a gauge swatch to determine your correct needle size, then cast on and complete the ribbing and come to class with the stitches on the needle, ready to knit the color work part together.