Design Your Own Timber Frame: Generating Working Drawings: Online Course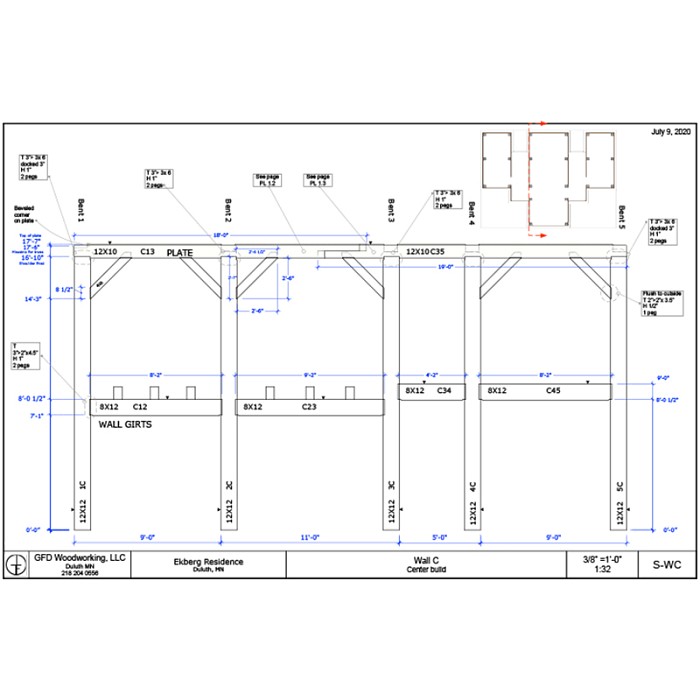 Course Overview
If you've dreamed of designing and building a timber framed home but have run into some stumbling blocks translating your castle in the sky onto paper, we can help. Join timber framing instructor Gerald David for a new online course that aims to give the beginning timber framer guidance towards confidently planning a timber frame, generating drawings, and bringing the dream a couple steps closer to reality.
In two sessions, we'll explore plan sets and focus on getting tothe industry standard 'stick drawing', where on one page you have a scale drawing of each of the four sides for one unique timber. This allows the framer to cut each timber separately, potentially in a very small shop. This class will go through the steps necessary to generate these, as well as the drawings that complete the plan set. Through presentation and discussion, we'll cover the following:
the basics of timber framing and its repetitive nature (reference faces, how to organize a frame, basic joinery, rules and terminology)
the barest basic notions of loads (timber sizing is a different class taught by engineers)
your workspace
your toolkit
your working method
your layout method
different types of drawings
determining your 'givens' for the new structure
the timber at your disposal
joinery choices and sources
geometry and proportions
'real-world' influences on your choices
what constitutes a plan set
plan view
elevations
sections
stick drawings
This class will be held in Zoom, with roughly 90 min of instruction and 30 min dedicated to questions. At any time throughout, participants are encouraged to ask questions. Course participants will also receive a PDF with course materials. The sessions will be recorded and made available to participants for re-viewing.
Note, this is not a course for people with no familiarity with timber framing. If you have not yet taken a timber framing course, you are welcome to enroll, but should plan to do some pre-reading of "how-to" books in order to be familiar with basic terminology.