Carving Multi-Hollow Bowls & Servers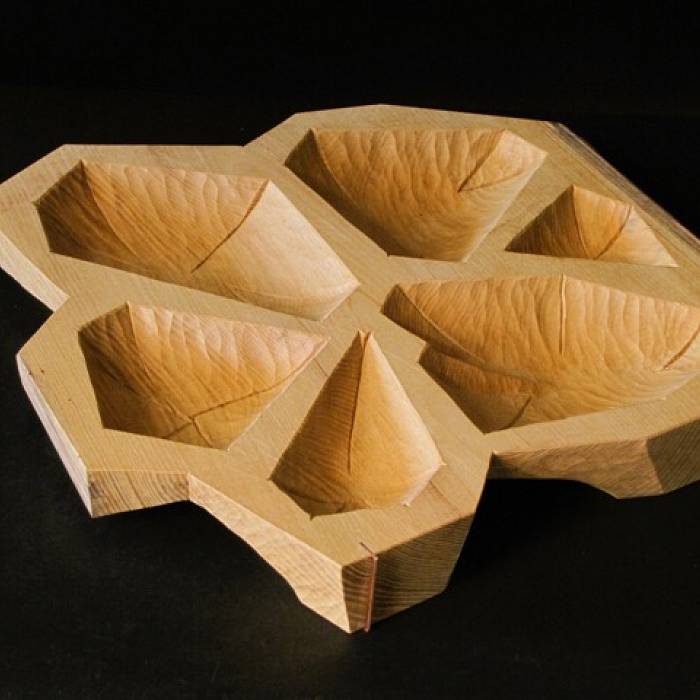 Course Overview
North House Folk School is delighted to welcome Drew Langsner to campus for the first time to teach a course in bowl making. Drew has been well-known in the traditional craft world for decades as the founder of Country Workshops, a school devoted to the teaching of traditional woodworking with hand tools (and inspiration to the founders of North House), as well as the author seminal texts in the world of green woodworking. Drew will offer a course in carving multiple hollow bowls, a form at the intersection of functional object and creative expression. Drew writes "The process of making a multi-hollow bowl respects the rules of woodcarving – how crystalline tools cut fibrous wood. The created objects are fully functional. But a multi-hollow bowl is also a work of art, a sculpture to be appreciated with wandering eyes and hands. Carving a multi-hollow bowl is a fun and different way to make something significantly personal, and also functional."
A Note From Drew
This is a rather different course for North House and myself. For 40 years I ran Country Workshops, a small crafts school that focused on teaching traditional woodworking with hand tools. Before Country Workshops, I was in the fine arts world. During university years I earned an M.A. in painting and sculpture and was on track to becoming a college art professor.
For many reasons my life took a decades long detour into the world of traditional crafts. I had many interests working with wood, but chairmaking and bowl carving were the things I always came back to. It was a very good ride. Eventually I decided to close the circle looking for a way where I could nurture my creative side as an equal partner with making things that are still fully functional. And with wood. And hand tools.
I look at wood as a visually and tactilely interesting material, but not as something that has a form within it. At the same time, I want to continue with real bowls that are a treat to use. Does a bowl need to be symmetrical? What about making a bowl from flat material instead of a split log? How about starting by drawing free forms or cutting out paper patterns? This led to the idea of carving multiple hollow bowls that are part of a composed group. The hollows can be fully imaginary, or inspired by other forms. I've used leaves, fruit and sea-life forms for inspiration. Or, just an idea, like how ice shatters. What about the exterior shape? Does it follow the hollows, or take another path? With multiple hollows we must also consider the shapes and patterns between the hollows. We're now considering negative and positive in relationship to each other. How do you look at a bowl like this? Maybe your wandering hands become partners with your eyes.