Anishinaabe-Style Bead Embroidery and Moccasin Sewing Online Course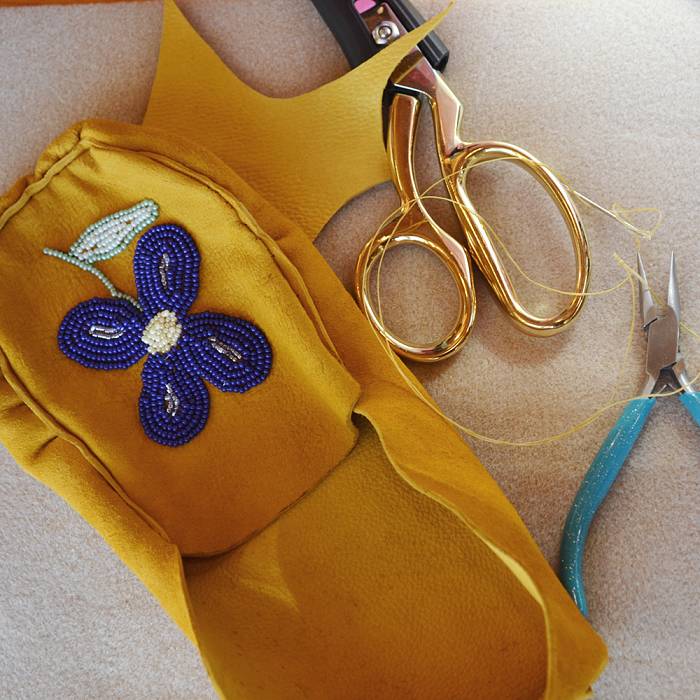 Course Overview
Discover the designs, color, styles, and technique of traditional bead embroidery as you work with Ojibwe cultural specialist and Grand Portage band member Marcie McIntire, sewing and decorating a pair of moccasins in this course. You will design a pair of moccasins to make to fit your own feet! Using quality tanned deerhide, Marcie will teach the steps required for assembly and help you design a pattern to finish your pair of moccasins with bead embroidery. Your materials fee includes the fabric, interfacing, beads, needles and thread. As time allows, additional beadwork projects will be included.
In this online course, we will meet once per week for five weeks as we progress through the steps of designing, beadwork, sewing, and finishing your mocassins. In addition, the instructor will provide a pre-recorded video for you to watch in advance of the first course session to get you started with designing your beadwork patterns and motifs.
Notes
Important instructions about connecting with the instructor to provide your foot size and bead color choices will be provided after registration; please take note and respond in a timely fashion.
In order for the instructor to have enough time to mail kits to all students before the first class session, the deadline to register for this course is October 1st.
This course offers students the opportunity to work with Marcie McIntire, an Aniishiinaabe beadworker. Marcie was exposed to beadwork from a young age not only from attending powwows, but also by her mother, Ellen Olson, a well-established beadworker. Marcie's grandmother was also a beadworker, and Marcie believes that beading was a family tradition at least back to the 1850's. In 1969, an early point in her artistic career, Marcie took a tour of a Red Lake museum. It was only a 15-minute tour, but the beadwork covering the museum walls made a lasting impression on Marcie. In addition, the beadwork and birch bark work at the Grand Portage National Monument served as an inspiration.