Timber Framer's Guild Regional Gathering
Fri, Apr 27, 2018 - Sun, Apr 29, 2018
Event Overview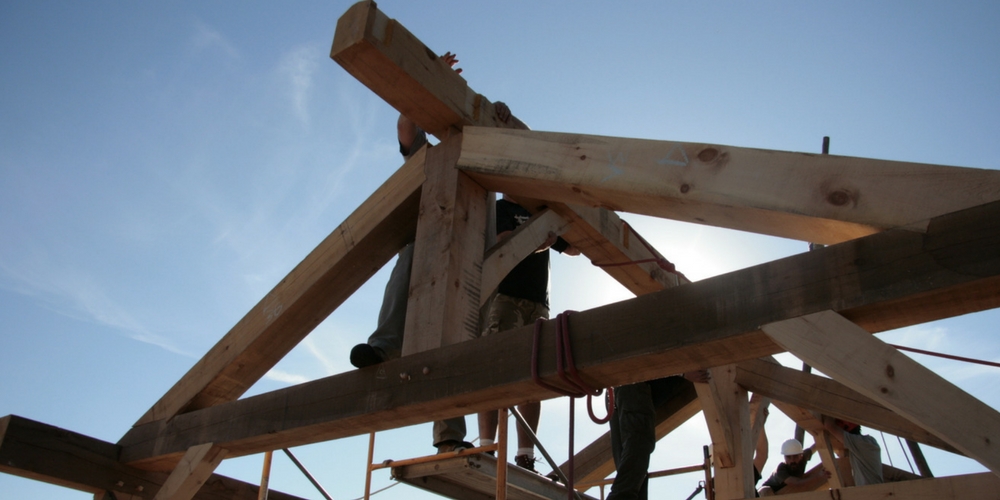 Timbers to tenons, posts to purlins, pegs to pizza (wood-fired, that is!) We're happy to announce the return of the Timber Framer's Guild to the North House campus for a 2018 North-Central Regional Timber Frame Gathering. Scheduled April 27-28, 2018, timber framers of any and all levels and interest are invited to gather on the shores of Lake Superior at North House Folk School.
The 2018 Timber Frame Gathering will be filled to overflowing with all things timber framing –workshops, storytelling, pre-gathering course offerings and abundant woodchips. The Gathering begins on Friday night with an Open House, tour of the North House timber framed campus buildings and film screening to kick things off. Saturday will feature speakers on topics including using Sketch Up, grant-based projects and Japanese-style framing. The afternoon will feature a variety of hands-on demonstrations, including sharpening, timber carving, blacksmithing, ax throwing and joint busting. The evening culminates with wood-fired pizza bake (BYO: Build Your Own!) and a group slide show. Sunday morning will include brunch and presentation. Your registration fee of $65 early bird rate (six plus weeks in advance) or $75 regular rate includes three meals (lunch, dinner and brunch) and participation in all seminars.
Register for the full weekend here.
Families are welcome with an optional meal charge of $25 per person for Sat dinner and Sun brunch. Register for the guest pass here. Pre-event course opportunities require separate tuition and registration.

Festival Highlights
Friday, April 27
6:30pm Check-in & Social Hour
7:00pm Welcome to North House, Introductions
North House Campus Timber Frame Tour with Peter Henrikson
8:30pm Film Screening: Raise the Roof
Saturday, April 28
All sessions are open to registered participants and will be about one hour in length.
7:30am Coffee's on
8:00am Incorporating Japanese methods in the design and construction of American timber frames and furniture.With Clancy Ward
9:00am Preserving Heritage with Bill Bruentrup, Friends of MN Barns and Northern Bedrock Historic Preservation Corps
10:00am SketchUp for Timber Framing with Clark Bremer
11:00am Grant-Based Projects Roundtable Discussion with Mike Loeffler & Peter Henrikson: Grindbygg Building and others
12:00pm Lunch provided
1-4pm Hands on Demonstrations and Mini Courses
Timber Carving Demonstration with Jock Holmen
Scribing Round-to-Round with Deane Hillbrand
Blacksmithing Demonstration with Cody Myers
Open Shop: Making Joints to Break with Joe Miller
Ax Throwing with Gerald David
3:00pm Sharpening Roundtable Discussion with Dennis Chilcote, Clancy Ward & Clark Bremer
3:30pm Model Barn Raising with Bill Bruentrup and Gerald David
4:00pm Joint Engineering and Busting with Joe Miller
5:30pm Wood-fired Pizza Bake
There's nothing like handmade pizza cooked in a wood-fired oven. We'll provide tasty dough, sauce, cheese and one (really!) hot oven. Roll up your sleeves and get ready to roll your own: you won't want to miss it. Bring a topping of your choice to share: we'll create quite a smorgasbord of options. BYOB.
7:30pm Evening Slide Show Series
Been doing something interesting? Bring your jump drive and share your work with the group. We'll have a laptop and projector ready to go. Everyone is invited to share up to 10 slides and a few stories (5 minute max) in this informal setting. Sign-up in the office earlier in the day, just to keep things (slightly) organized. Please bring your pictures on a jump drive that will work in a pc.
Sunday, April 29
9:00am Brunch and Conversation
10:00am Timber Framer's Guild Representative: What's Next for the Guild
11:00am Education in the Field: Veteran Voices on Pathways into the Trade
North House is proud to partner with the Timber Framers Guild to host this Regional Gathering. The Timber Framers Guild is a non-profit educational membership association dedicated to the craft of timber framing. Their mission is to advance timber framing through research, education, and industry. Additional information is available at www.tfguild.org.
Course Offerings