Fresh Cut
Wed, Oct 25, 2017 - Sun, Oct 29, 2017
Event Overview
From the forest to the lathe to the table, Fresh Cut Week celebrates green wood turning on lathes of all types. Fresh Cut is full to overflowing with abundant speakers, short and long courses and community gatherings. This year, we welcome Swedish woodturner Stefan Nordgaard of the esteemed craft school Sätergläten, who will offer coursework, public demonstrations and a talk on his travels around the world to study woodturning. Coursework includes spindle turning, turning on a pole lathe, a deep dive into Scandinavian ale bowls, chainsaw use and safety, and work in painting and embellishment. Students who enroll in any course offered October 24-Nov 1 are invited to enjoy evening community gatherings, talks and field trips for a fully immersive experience, including materials harvesting, an ale bowl take-over of the local brewery, wood-fired pizza and stories of turning from Scandinavia to India.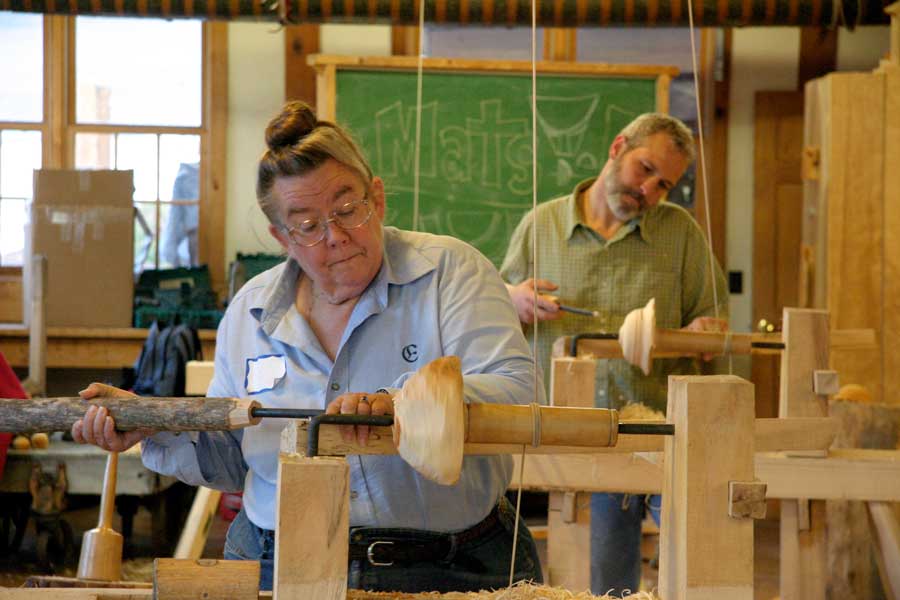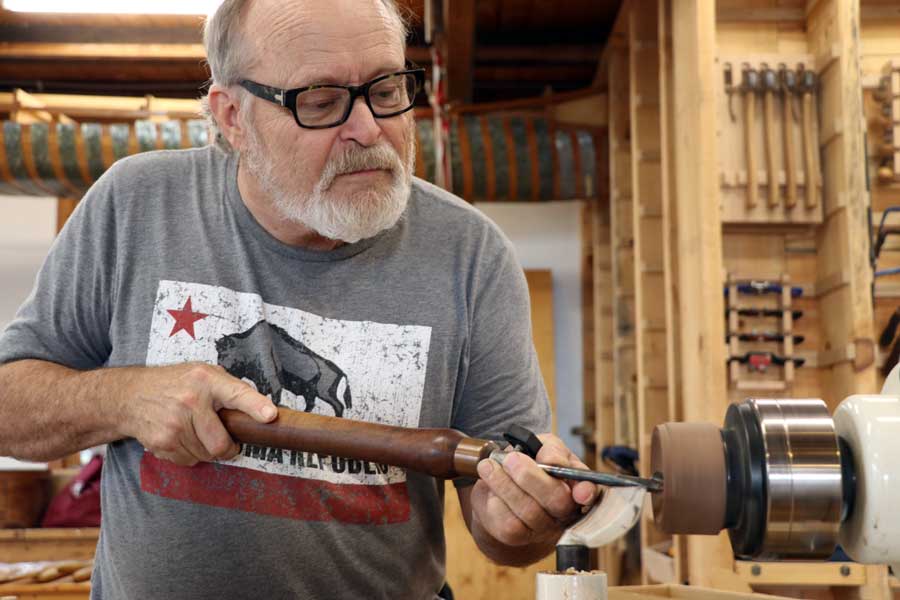 Festival Highlights
Come early, stay late or just hop on to whatever catches your interest. Fresh Cut Week features learning opportunities at every turn! No registration required for these free programs.
Carving Night with Harley Refsal
Tuesday, October 24 at 7:00 p.m.
Pull up a seat, break out your carving knife and make some shavings! Esteemed flat plane carver Harley Refsal welcomes everyone to join in this informal evening gathering at North House. Conversation, community and laughter are certain. Bring your own tools and projects.
Get Whittling Skill Share
Thursday, October 25 at 7:00 p.m.
Learn to safely wield a sloyd knife! In this course we'll explore a number of effective, safe knife grips, practice carving with the grain, and touch on knife sharpening. By the end of the night you'll have the know-how to tackle your own carving projects at home!
Lunch and Learn: Wood Turning Demonstration with Stefan Nordgaard
Friday, October 27 from noon to 2:00 p.m.
Featured guest instructor Stefan Nordgaard will demonstrate wood turning. Bring a brown bag lunch or just come watch.
Fresh Cut Fika
Friday, October 27 at 2:30 p.m.
Join us for a Scandinavian tradition: Fika, a chance to drink a cup of coffee, eat some cookies and meet up with the community. Check out our 20th Anniversary Wall of Craft project and historic photos of campus.
Fresh Cut in the Field
Friday, October 27 at 3:00 p.m.
Turning with green wood means heading into the field to find material. Instructor Jarrod Dahl will lead any interested students on a short excursion to harvest a birch tree, which will then be used in several courses over the weekend. He'll discuss what he looks for in a tree and safe harvesting practice. We'll meet at North House at 3pm and carpool to a nearby location.
Ale Bowl Take-Over: Voyageur Brewing Happy Hour
Friday, October 27 at 5:00 p.m.
We're headed to our local craft brewery, Voyageur Brewing, for an ale-bowl take over! Bring a wooden ale bowl you (or someone else!) turned, fill it up with a craft brew and enjoy some community camaraderie. Rumor has it, there will be a discount on pours for those with wooden bowls to drink out of and an opportunity to try "green" beer. NA options available as well.
Traditional Craft Film Screening: Selections from "Hands"
Friday, October 27 at 7:30 p.m.
We'll screen a few short documentaries on traditional Irish crafts, filmed in the early 1980s. This award-winning collection is full of inspiration with an emphasis on the skills of human hands.
"As the World Turns" Featured Presentation with guest instructor Stefan Nordgaard
Saturday, October 28 at 7:30 p.m. in the Blue Building
Featured Guest Instructor Stefan Nordgaard has been turning wood for decades and has found inspiration around the world. He traveled to India and was hired on in a professional shop. He then traveled to North Africa where he learned how to turn using his feet. His wide-ranging interest has taken him across Europe and landed him home in Sweden, where he teaches at Sätergläten Craft School and turns in his shop. He'll show images and tell stories of wood turning the world over.
"Turning in Boräs, Sweden, Past and Present" with Jarrod Dahl
Sunday, October 29 at 7:00 p.m. in the Blue Building
Instructor Jarrod Dahl has made several research trips to southern Sweden to study the extensive wood turning culture of that region, visiting museums, digging into archives, searching out old woodenware and visiting with other makers along the way. He'll share stories and images from his lastest trip to the region in the fall of 2017.
Lunch and Learn with Harley Refsal
Monday, October 30 at noon in the Blue Building
Resident guest instructor Harley Refsal will give a free talk about woodcraft in Scandinavian homes. BYO brown bag: learn while you lunch!
Course Offerings