Turning the Wooden Bowl: Marginalized Genders Session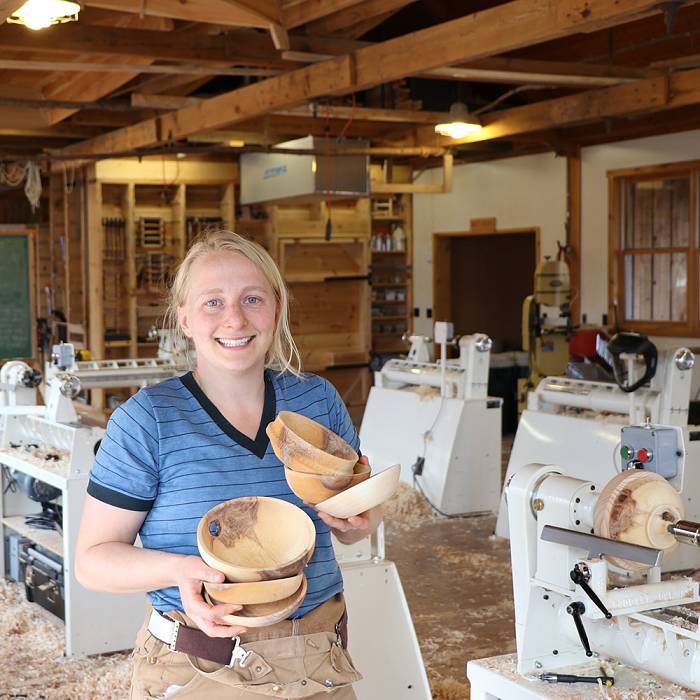 Course Overview
Come and make wood shavings fly as you learn how to create wooden bowls on the electric lathe. Students will explore the form and function of this age-old craft while learning about lathe use and terminology. Paper birch from the North Shore will be used for the bowl blanks and students will make anywhere from 3-8 bowls! Examples of finished bowls will be provided as references. The course includes a discussion of finishing techniques, including food-safe paints and oils. Students will be able to bring home their birch bowls for everyday use in the kitchen or as unique pieces to display. The materials fee includes all wood for projects plus the use of individual lathes and set of tools. By request, this class is for people of marginalized genders including women (cis & trans), non-binary folks and trans-men. The learning space will be centered on collective sharing, individual growth, and a supportive environment.
Session Information
North House is looking forward to hosting this course on campus in the safest way possible. As recommended by our HVAC consultants, we have increased air ventilation and installed an air filtration system. We perform extra cleaning of campus and are keeping class sizes small in our largest classrooms. Students must participate in a daily health screening and temperature check, agree to wear a mask at all times on campus, and to practice social distancing of 6 feet, as well as adhere to other safety protocols in some cases. See the full details of our COVID-19 protocols here.
Dates
Cancelled
Thu, Jan 28th, 2021 – Sat, Jan 30th, 2021
This course has been cancelled to mitigate the risk of spreading COVID-19. We offer our deepest apologies. We truly believe in the power of craft to build community, and we know that community is needed more than ever in times like these. However, the need to stay healthy and protect our friends and neighbors is the most critical priority.
If you were registered for this class, you should have received an email regarding your refund options. If not, please call us at 218-387-9762 or email us at info@northhouse.org.
Click here for additional information.
We truly hope to see you in another class at North House soon!
Course Details
Skill Levels:
Beginner to Advanced
Intergenerational age:
N/A
Tuition:
$390.00
Materials fee: $45.00
Required
You will need the following tools for this class:
All required tools/materials are provided by your instructor and North House and will be available once the course begins.
Optional Tools
Feel free to bring your favorite tools and whatever materials you might feel appropriate for this course.
More Information
Once registered, students will receive a confirmation email with further class information. Please call us if you haven't received it within 24 hours.
Turning the Wooden Bowl: Marginalized Genders Session - 1/28/2021